Cheshirelady Galatea of Chubbytania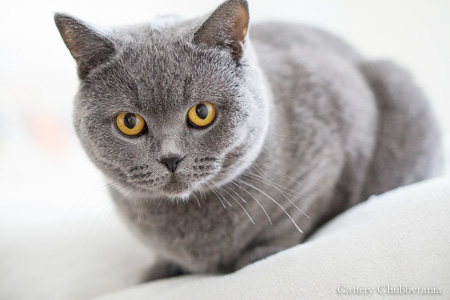 Cheshirelady Galatea of Chubbytania
Title:

TICA Grand Champion, CCA Champion

Date of Birth:

07/09/2013

Color:

Blue (a)

Breed:

British Shorthair (BRI)

Sire:

RW SGC Britz Ben Hur of Sterlingbrits

Dam:

Ch Cheshirelady Xavier

DNA testing:

PKD negative
Our gorgeous queen Galatea is already a TICA Grand Champion, CCA Champion, and 2015 Best Blue British Shorthair of the Year, 2015 Second Best British Shorthair of the Year! She has 5+ generation pedigree from the best catteries full of world champions and she is a real star of our cattery.
Galatea is an affectionate, intelligent and sociable girl. She always greets us at the door, loves to be nearby and shows us her love with a loud purr. Galatea is a very responsible and caring mother. She makes a really good companion and also gives us a lot of joy while participating in shows!
With Galatea we get a lot of attention from visitors of cat shows. Obviously, our wonderful teddy bear with her plush coat, stunning copper eyes and a baby face makes everyone fall in love. Judges also adore Galatea's appearance and personality and confirm her breeding and health standard.